Thanksgiving in Uptown
in
Life
,
Uptown
,
See
---
Originally featured on Boulevard Realty's Rediscovering Houston blog
Every year, thousands gather along Post Oak Boulevard for the annual Uptown Houston Holiday Lighting ceremony with their family, friends and fellow Houstonians to celebrate the season with fireworks, music, festivities and more than a half million twinkling lights. But that's not the only thing you can do in Uptown on Thanksgiving. Read on to find out what there is to explore in Uptown on Thanksgiving Day and into the holiday season.
Turkey Trot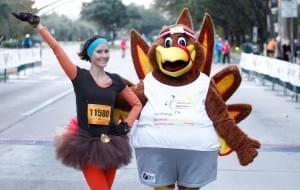 Move your feet before you eat at the TXU Energy Houston Turkey Trot, the second largest footrace in Houston, starting at 7 a.m. on Thanksgiving morning at Dillard's by The Galleria. Registration begins at 6 a.m. with consecutive races starting between 7:20 a.m. and 9 a.m. Stick around after the competitive and non-competitive 10k/5k, wheelchair and kids races for the post-race party that will include free food, music, a kid's area and other family activities. Money raised from Houston's second largest footrace will impact over 192,000 seniors, children and families at Neighborhood Centers. You can register for the races or learn how to volunteer online. Early bird registration ends Nov 21.
Uptown Holiday Lighting
Arrive at 4 p.m. on Thanksgiving to secure your spot along Post Oak Boulevard and enjoy the sounds of their favorite holiday music while snacking on flavors of the holidays such as funnel cakes, cotton candy, kettle corn and holiday beverages. Plus, a percentage of concession sales will benefit Be An Angel and the Houston Area Urban League.
Merry Holiday Stage Show
Following the holiday tunes, a Merry Holiday Stage Show with live performances from local Houston entertainment groups, including the Houston Concert Band, Salvation Army Harbor Light Choir, Houston Choral Showcase, Mixteco Ballet Folklorico and A.D. Players will begin at 5 p.m.
Santa Lights The Boulevard
To kick off the holiday season, Santa and his reindeer will make their annual appearance at 7 p.m., and with the help of the audience, light up more than a half-million lights on 80 trees lining Post Oak Boulevard and on area building rooftops. The evening will end with a dazzling fireworks extravaganza that will light up the Houston sky choreographed to favorite holiday music, setting the stage for a spectacular holiday season.
Where to park? http://www.uptownhouston.com/images/uploads/about/2015_Uptown_Houston_Holiday_Lighting_Flier.pdf