BBBB for the Week of Nov 29, 2020: 🏘️ A Few New Picks + Top 5 Reasons to Buy a House in Winter 🌬️❄️
in
Becky's Best Bungalow Bets
,
Heights
---
Hello BBBB Friends:
Cool and sunny! Perfect house-hunting weather and there are plenty of open houses scheduled to keep you in the shopping mood. There are only 26 more shopping days till Christmas but if you want to be in a new home by January 1st to lock in your homestead exemption, time is getting short. Even if you don't make the 1st deadline, here are my
Top 5 Reasons To Buy A House In Winter:
🤼 Less competition: Fewer people are in the market who want the same house you do. That said, here in the Heights we have a bit of an inventory shortage so houses that come onto the market that are move-in ready and priced at market or slightly below may have multiple offers right off the bat.
🔥 Motivated sellers: Who wants to be showing their home when company is in for the holidays and you have to find a place to stash Aunt Edith who is snoring away by the fire (or at least the fireplace)? If a house is on the market now, sellers are either fatigued from having the home listed for months or they are serious about selling and there may be room for negotiation.
🛌 Furniture sales: January is the best month for furniture sales to outfit your new home. New styles are released in February and stores need to move the merchandise. Up north, July edges out January for furniture sales because who wants to schlep furniture in the snow? (Note: better to go shopping after you close so your debt to income ratio doesn't get out of wack and kill your deal.)
 🤷 Fewer choices: Yes, fewer homes to choose from can actually be a benefit. A lot of buyers suffer from analysis-paralysis and miss out on great homes because they are afraid of making a bad decision or, thinking "what if the perfect house comes on the market next week?".
😎 Better weather: It is so much more fun to house hunt when it isn't 90+ degrees outside! Enough said.
With just a handful of new listings this week, I have a shortlist of featured properties for your perusal today. Additionally, keep scrolling down to catch up on price changes, new contracts, and final sales for homes that are
Still on My List
.
Have a great week and let's go look at houses or talk about selling yours!!!
Becky
--
Information About Brokerage Services
TREC Consumer Protection Notice
Becky Davis
Compass Realty
832-628-8221
Thinking of selling? We can front the cost for painting, landscaping, upgrades and more. No fees or interest, EVER! Click here for more information.
*Note: For purposes of BBBB, the "Heights" is defined as the area between I-10 and Loop 610 N and between Shepherd and I-45). 
******
THIS WEEK'S FEATURED PROPERTIES
Milroy Place
Craftsman bungalow circa 1920
2/2, 970 sq ft on 5300 sq ft lot
Older updates to kitchen and bath
Primary bath reno 2017
Back deck with pergola + yard
Driveway access (gated) to 2 car over-sized detached garage
Curbed street provides additional parking.
Zoned to Helms Elementary
I'm a fan of Milroy Place. It's a small subdivision, between 23rd and 25th Streets just east of Yale, with lots of cute, well-kept bungalows and some new construction. It's home to Halbert Park, which has basketball and tennis courts and a small playground.
******
Norhill Historic District
Pediment bungalow circa 1930
3/2, 1385 sq ft on 5000 ft lot
Updated kitchen and baths
Back deck and small yard
Side driveway access to 2 car detached garage
Zoned to Browning Elementary
Beautiful corner lot with mature landscaping and trees. Great location just around the corner from A Second Cup and other restaurants near 11th and Studewood.
******
Houston Heights
Praire and Craftsman influences built in 2002
4/3/3, 3664 sq ft on a 7100 sq ft lot
Fresh interior and exterior paint and updated kitchen and baths
Owner's suite down with private screened porch and courtyard
Workshop and 1/2 bath in garage
Additional 400 sq ft of decked storage space over the garage
Alley access to 2 car attached garage with automatic security gate ❤️☂️
Curbed street provides additional parking
Zoned to Field Elementary
If you like porches, this will be a favorite, from the wrap-around front porch to the large side porch and patio area to the back screened-in porch. 
******
Moving on...PRICE REDUCTIONS & STATUS UPDATES THIS WEEK
PRICE REDUCED
Houston Heights
Greek Revival built 2011 by Distinctive Living
3/2/1, 2196 sq ft on 3275 sq ft lot
Double gallery front porches
One of a series of 3 homes built by Distinctive Living
Covered back porch with flagstone patio, landscaping, and small pet patch
Alley access 2 car detached garage
Pad parking spaces in front
Zoned to Helms Elementary
Location is a compelling factor for this home. Walk to restaurants on Shepherd, 19th, and 20th Streets. It is also just one block off the Hike and Bike Trail.  
******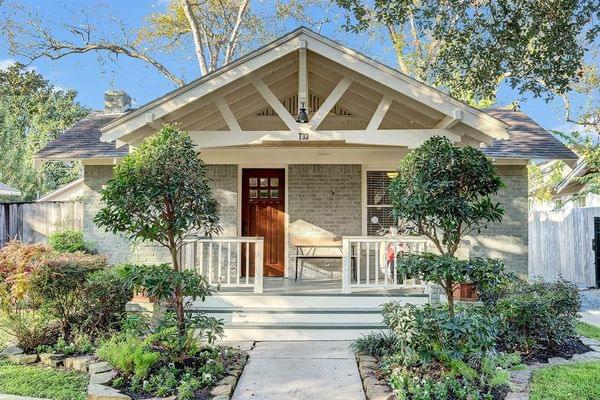 PRICE REDUCED
Pinelawn
Brick bungalow circa 1929
3/2, 1743 sq ft on 5000 ft lot
Expanded/renovated 2014
Original fireplace (not operational) and built-ins
New oak flooring
Wood deck + concrete patio + small greenspace
Driveway access w/auto gate to secured parking space
Curbed street provides additional parking
Zoned to Field Elementary
Lovely tree-lined street. Field Elementary is located less than a block away.
******
OPTION PENDING
Price at time of contract:  $630,000
Original List Price:  $697,500
Days on Market: 18
******
OPTION PENDING
Price at time of contract:  $1,299,000
Original List Price:  $1,299,000
Days on Market:  1
******
OPTION PENDING
Price at time of contract:  $1,324,900
Original List Price:  $1,369,000
Days on Market:  103
******
OPTION PENDING
Price at time of contract:  $1,490,000
Original List Price:  $1,490,000
Days on Market:  3
******
GOING, GOING, GONE
BUT WAIT, THERE'S MORE...
This is just the latest and greatest; however, there are still lots more on my list that you can check out here: